Monday Morning "What If's!"
The analyzing begins once again. In a different way. A variety of thoughts fill our brain. Our gut is empty from yet another almost perfect lineup.
The………
-He was on my radar.
-Last minute switch that either made you successful or crushed your dreams.
-Injury update that had you question a player who either sat out or played at 100%.
-Historical matchup data.
-Player tendencies came to fruition? Hopefully as they should
-Dart throws that struck bullseye or put another hole in the drywall.
-Consistent fantasy player who came up short.
-Jeff Janis play of the week.
All we ever hope to do. Is to submit the best lineup. Knowing we will ultimately be crying. Still! The research, analysis and time were well worth it.
Overall this past Divisional Round Weekend. I placed 25 lineups out of 44 (Saturday start time contest). 56.8%.
383,333 entry contest.
Submitted 31 lineups.
Placed in 15 of those lineups for a 48.3%.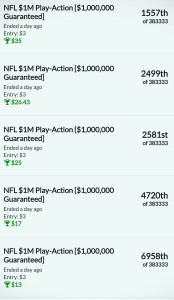 Only 2 entries this week and placed both. 100%.
Super What If analysis. Clearly should have submitted at least 10 lineups.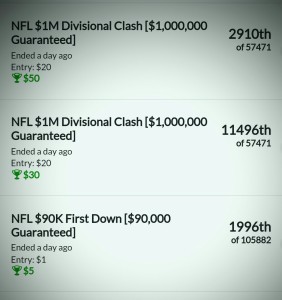 There never seems to be enough time in the analysis process. The breakdown of how we envision Saturday playing out. Now we have to hurry to our DFS site and adjust before 1:00 p.m.(est) Sunday.
As for now. Im focusing on the 2 upcoming games this Championship Weekend. I'm out!
Please follow and like FF NATION: