DraftKings Million Dollar Winner – Week 4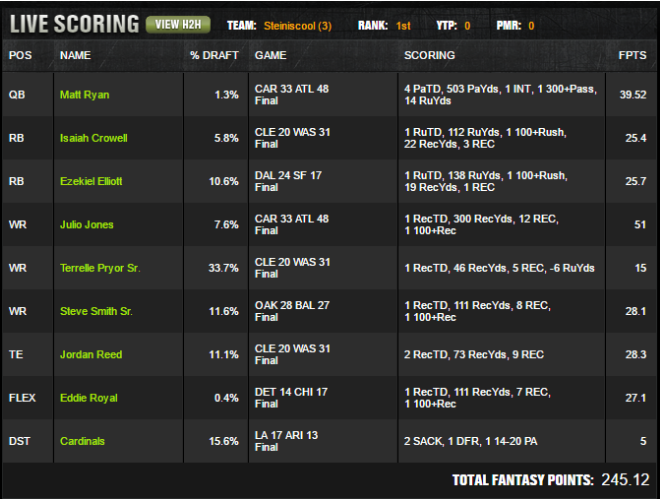 Oh week 4… how you obliterated me.

Matt Ryan and Julio Jones absolutely went off this week, combining for 90 points! If you didn't have these 2 in your lineups, you probably suffered the same fate as me, a negative week.
I know Carolina's cornerbacks are young and unproven, but personally I expected the Panthers to come back from last weeks loss and play lights out in Atlanta.
Let's take a look at this weeks Million Dollar winning lineup courtesy of Steiniscool. (He most certainly is after this week)
QB: Matt Ryan was a great pick as it turns out. Almost 40 points and 1.3% owned.
RB: Isaiah Crowell is another pick I was staying away from this week. Did I say I lost this week already? Sure, Washington has a terrible run defense, but Crowell and Duke have been splitting carries. How can you trust a backfield like that? I certainly can't and although I ate it this week, I think back to a Saahil Sud suggestion when he said, believe in your system, not the results. Meaning just because you had a good week or a bad week, stay true to your model and don't chase.
RB: Ezekiel Elliot had a nice game at 25 points against San Fran, solid pick up here.
WR: Julio Jones was a stud and only 7% owned, I paid up for Antonio Brown in a few lineups, but Julio was off my radar unfortunately.
WR: Steve Smith Sr. was a great pick up this week vs a terrible Oakland defense. 4,500 and 28 points is exactly what you're looking for in these lineups. I was all over Smith coming off that trash talking game in Jacksonville.
WR: Terrelle Pryor Sr. at 33% owned disappointed at 15 points. Yes he was only 4,300 so you can't be mad, but expectations were huge for this guy after last week.
TE: Jordan Reed definitely produced with 28 points vs a Cleveland defense everyone was expecting to fold. I was on Reed, but I stacked him with Crowder a ton and Crowder didn't fair well at all.
FLEX WR: Eddie Royal: This turned out to be an amazing pick up and in my opinion the MVP of the lineup. This was the game changer that led to Stein being unbelievably cool.
DST: Cardinals had a bad outing being the highest priced defense on the slate and only turning out 5 fantasy points.
Huge congratulations to Steiniscool on his Million Dollar lineup, with only 6 entries! Way to go!
Please follow and like FF NATION: