DraftKings Million Dollar Winner – Week 2
Week 2 is over and done with as Al_Smizzle brings home a cool $1 Million Dollars!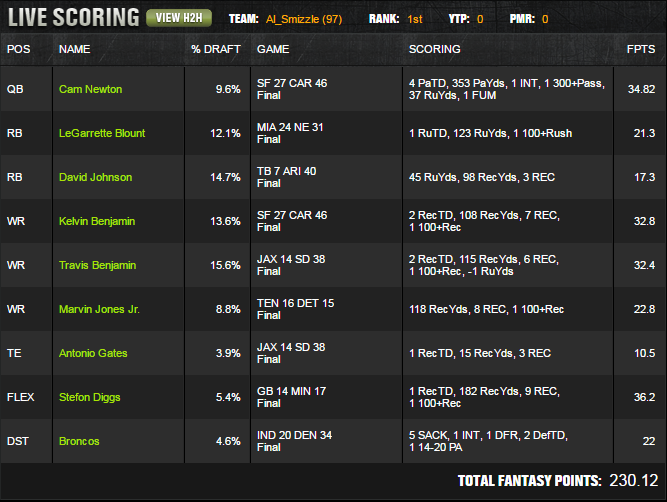 This weeks winner spread his players out across 6 teams. Let's take a look.
Quarterback Cam Newton Surprising low, Cam was only 9.6% owned, but he put on an impressive performance with 34.82 points. Cam and Kelvin Benjamin was the stack of the weekend.
Running Back LeGarrette Blount Had a great game vs a terrible Miami defense (stat wise from last year). Personally I stayed far away from this MIA NE game for a couple of reasons. First, Miami shut down Seattle last week in Seattle, their run defense was pretty good. Second, I never trust Billy B and his players for fantasy. You never know with the Patriots as they always spread the ball around and rotate players. I preferred DeMarco Murray in this spot, he had similar output and similar ownership to Blount, but in a much more stable game.
Running Back David Johnson Another player I was leaning away from this week. Only 14.7% owned is a little bit of a shocker for me as I was expecting him to be massively owned at home vs the Bucs. Turned out to be a decent call though, my play was C.J. Anderson who put up similar numbers, but unfortunately was more than double Johnson ownership rate at 36%.
Wide Receiver Kelvin Benjamin One half of the best stack of the week with Cam Newton and only 13.6% owned, great play.
Wide receiver Travis Benjamin With Allen out, someone had to pick up the targets left behind. Turns out that guy was Travis Benjamin with 32.4 points.
Wide Receiver Marvin Jones Jr. Only 8.8% owned is ridiculous, really. Jones had 10 targets last week and had another great match up this week. He was an easy play and he produced. He'll be another great option next week in Green Bay.
Tight End Antonio Gates This was a smooth play, stacking with Travis Benjamin in an expected shootout with the Jags. Gates found the end zone and salvaged a 10.5 performance.
FLEX Wide Receiver Stefon Diggs Here it is ladies and gentlemen, the MVP of the lineup. Diggs was 5.4% owned and put up a 36.2 point bombing! This turned out to be a great pick. I was questionable on Diggs simply because this was Bradford's first start as a Viking. Turns out, you have to take some chances to win a Million!
DST Broncos 2 Touchdowns and 22 points later proved Denver to be the right call. Is Andrew Luck as good as we thought or is the Denver defense just that good?
Congrats again to Al_Smizzle on his Million Dollar Lineup! (Al_Smizzle had 150 entries)
Please follow and like FF NATION: