Draft Kings Million Dollar Winner – Week 1
The first Million dollar winner of the year is in the books. Congratulations to RandyRanderson1 on their amazing lineup!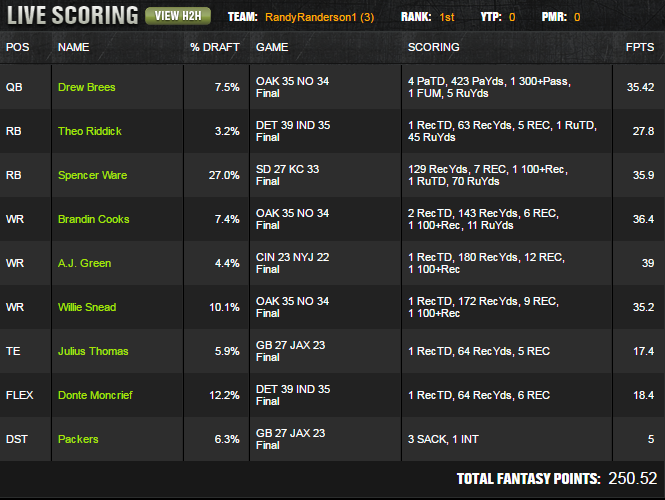 This lineup only includes players from 5 games. Helping cement one of our strongest strategies at FF Nation, which is to focus your lineups. Keep it simple and don't over think it. Target the games you like and decide which players from those games will excel, don't spread your players out over many teams. Of course this won't always work, but we believe it's your best chance at $1 Million dollars and here's more proof.
Let's break down the lineup.
QB Drew Brees was a surprising 7.5% owned – that's low! I thought for sure he would be one of the highest owned quarterback's and for that reason, I was shying away. Turns out only 7.5% of people were willing to pony up for his huge price tag and those that did reaped the rewards.
RB Theo Riddick at 3.2% turned out to be a great play. I had the DET IND game as the second best game on the slate (behind NO OAK), but I was only on Detroit's wide receivers and tight ends. With the split snaps between Abdullah and Riddick, I wasn't willing to commit to a running back. 27.8 points later, I'm eating my words.
RB Spencer Ware was about 4,400 and everyone was on him, 27% to be exact. All that hype turned out to be real with a whopping 35.9 points. Ware was a staple in every lineup that cashed this week.
WR Brandin Cooks exploded for 36.4 points in week 1 and he was only 7.4% owned. Not too surprising since Drew Brees is known for spreading the ball around, but he's the Saints #1 WR in the highest total game, I expected more ownership.
WR A.J. Green is really the all star on this card. In a 'tough' match up vs Revis and the NYJ's, Green was expected to somewhat struggle. 4.4% ownership on one of the leagues best wide receivers is evidence of that. A.J. came through in a dominate way posting 39 points and helped solidify RandyRanderson1's Million dollar lineup.
WR Willie Snead was a low priced gem. 10.1% of the field were on Snead as he was expected to produce in the Saint's high flying offense and produce he did. Snead racked up 35.2 points and easily exceed his price tag.
TE Julius Thomas came into this game vs the Green Bay Packers with fantasy owners expecting him to get locked down. The Packer's defense has been great vs tight ends and barely anyone wanted a piece of Thomas, he was only owned by 5.9% of the field. He didn't really beast out, but he put up a solid 17.4 points. Thomas was a good role player in this winning line up.
FLEX Donte Moncrief being owned by 12.2% of owners is slightly lower than expected. Especially since Andrew Luck is back and Moncrief is expected by many to break out (again) this year. Another low owned, solid performing role player in this excellent lineup.
DST Packers What can I say here? Green Bay's defense didn't produce many points, but they were a cheap option that allowed for better positional players.
Congratulations again to RandyRanderson1 on their Million dollar win! (RandyRanderson1 had 20 entries)
Please follow and like FF NATION: